Koen Herfst
Drummer – Composer – Producer
Koen Herfst is one of the most energetic and versatile drummers of The Netherlands. He is known for his work with Armin van Buuren, VANDENBERG, Epica, Anneke van Giersbergen, his own bands The Cards and Voodoo Chambers and was voted 'Best Hardrock drummer of Benelux' for 6 years in a row. 
Next to being a drummer, he also runs his own drumfestival 'HERFSTFEST' (Holland's main drum-event) and co-organized the biggest drumevent ever in The Netherlands: '2000 drummers on the beach', together with his great friend and Dutch drum-legend Cesar Zuiderwijk of Golden Earring. Koen is a multi-instrumentalist and composes his own music as well as music for other artists and events. He has his own (drum)studio and records and writes for and with artists all over the world.
Interested in working together? Get in touch!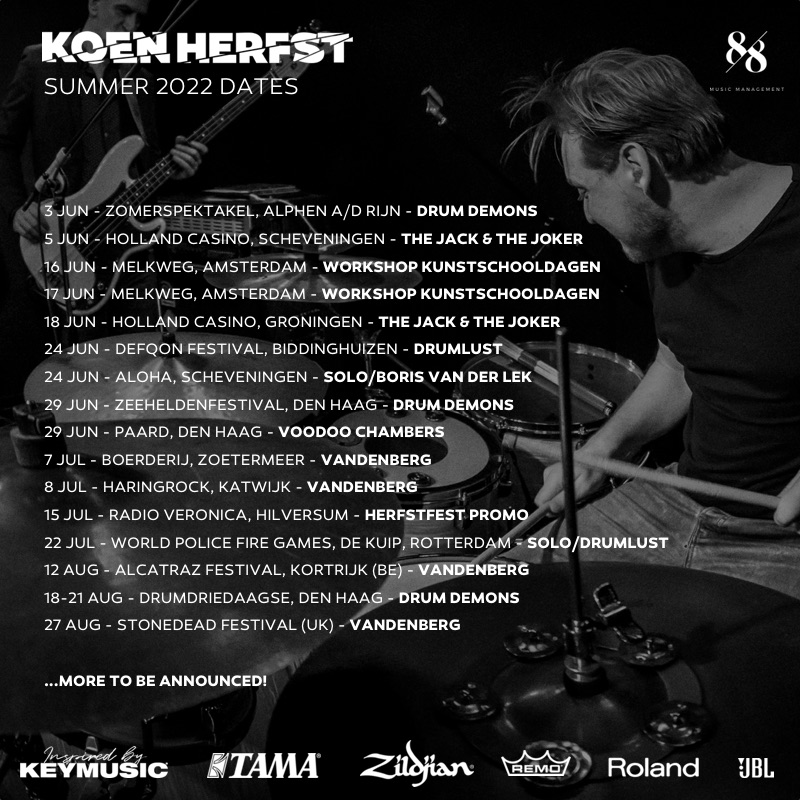 ROCK GROOVES & SAMPLES PACK
Koen Herfst and Sandlane Recording Facilities proudly present the Koen Herfst Rock Grooves & Samples Pack. A collection of superb sounding drum loops and oneshots, recorded and mixed to our highest personal standards to be both natural and punchy. Browse the loops for instant inspiration in songwriting, or enhance your drum recordings with oneshot samples in multiple velocities.
300 grooves and fills, divided into 60, 80, 100, 120, 140 and 160 bpm

Mix-ready stereo files for instant inspiration

Dry/room splits for added control and experimenting

Oneshots of Koen's personal kit in multiple velocities

48kHz/24bit WAV files, mixed on high quality analog gear (Neve, Urei, SSL, Pultec, etc.)
"Koen is not only a great drummer, but his performance and expression are also why I love to have him in my shows!"
"Koen has been voted Holland's best hard-rock drummer now for several years. He has the sort of fire in his belly that would make any greats such as John Bonham and Ian Paice smile."
"Koen, Again, I just wanted to say thank you so much for all of your preparation, professionalism and for sounding so great last night at the SENA guitar awards. great job!"